NOWOŚĆ !!!
Kabel światłowodowy, ognioodporny typu FOC-2-SLT-HFFR PH120/E30-E60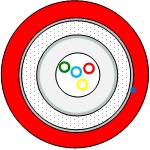 Miło nam poinformować, że Technokabel S.A. jest pierwszym krajowym producentem certyfikowanego kabla światłowodowego ognioodpornego i uzyskał:
- Krajowy Certyfikat Stałości Właściwości Użytkowych Certyfikat 063-UWB-0253
- Świadectwo Dopuszczenia do stosowania w budownictwie nr 3990/2020, wydane przez Centrum Naukowo-Badawcze Ochrony przeciwpożarowej PIB
Kable zapewniają transmisję sygnałów przez 120 minut w temperaturze ponad 800 °C.
Kable są odporne na oddziaływanie wody zgodnie z normą PN-EN 50200 Annex E i mogą być stosowane w pomieszczeniach chronionych stałymi wodnymi urządzeniami gaśniczymi (strefach tryskaczowych).
Kable przeznaczone są do instalacji na stałe wewnątrz i na zewnątrz budynków.
Fabryka kabli – Technokabel SA
Kable i różnego rodzaju przewody to niezbędne elementy łączące, które wchodzą w skład niemal każdego systemu automatyki przemysłowej, nowoczesnych urządzeń wykorzystywanych w przemyśle ciężkim, chemicznym lub spożywczym, sprzętów przeznaczonych do transmisji analogowych i cyfrowych czy urządzeń audio i video. W firmie Technokabel SA zajmujemy się produkcją wysokiej klasy kabli i przewodów – dostarczamy naszym Klientom najlepsze rozwiązania wypracowane podczas 35-cio letniego doświadczenia i dopasowane do ich indywidualnych potrzeb. Oferujemy ponad 10 000 typowymiarów kabli i stale pracujemy nad nowymi technologiami i konstrukcjami, których zadaniem jest uzyskanie najwyższych parametrów łączonych urządzeń i ich niezawodności. Opracowujemy i produkujemy również kable według indywidualnych wymagań stawianych przez Klientów. Zachęcamy do zapoznania się z naszą ofertą.
Kable hybrydowe, informatyczne, przewody alarmowe – zapraszamy do zapoznania się  z naszą ofertą, która uwzględnia dynamicznie zmieniające się wymagania różnych systemów elektrotechnicznych.
Projektujemy, produkujemy i prowadzimy sprzedaż m.in. kabli sterowniczych i przyłączeniowych, do transmisji danych, kabli teleinformatycznych, przewodów audio i video, przewodów jednożyłowych, kabli sygnalizacyjnych, elektroenergetycznych, ognioodpornych, kabli górniczych z atestem EMAG, kabli do zastosowań militarnych czy przewodów ciepłoodpornych. Mieliśmy również okazję projektować oryginalne konstrukcje przeznaczone do niestandardowych zastosowań. Nasze wyroby można spotkać w wielu inwestycjach przemysłowych nie tylko na terenie całej Polski, ale też w krajach Unii Europejskiej i poza nią.
Produkcja kabli komputerowych, instalacyjnych i przyłączeniowych na najwyższym światowym poziomie.
Aby sprostać oczekiwaniom nawet najbardziej wymagających Klientów, proces produkcji naszych wyrobów przebiega w ściśle kontrolowanych warunkach. W codziennej pracy korzystamy z nowoczesnych i niezawodnych urządzeń pomiarowo-badawczych, sprawdzonych automatycznych rozwiązań oraz wiedzy i doświadczenia naszych specjalistów. Stale usprawniamy metody produkcyjne zaawansowanych technicznie konstrukcji przewodów i kabli – to dlatego zaufało nam już wielu przedsiębiorców z branży przemysłowej, budowlanej, instalacyjnej, wojskowej czy telekomunikacyjnej. Do każdego zlecenia podchodzimy indywidualnie – wyprodukowane kable do automatyki przemysłowej lub przewody do urządzeń elektronicznych zawsze dostarczamy na czas.
Technokabel SA – fabryka kabli hybrydowych, górniczych, iskrobezpiecznych i specjalnych
Solidne kable i przewody to elementy konieczne do wykonania sprawnej oraz bezpiecznej instalacji. Jeśli szukasz podstawowych przewodów instalacyjnych lub kabli do specjalistycznych zastosowań – rozpocznij z nami współpracę! Zadzwoń lub odwiedź naszą siedzibę, powiedz nam, jakie są Twoje oczekiwania względem parametrów technicznych, a nasi specjaliści dokładnie je przeanalizują i przygotują ofertę idealnie dopasowaną do Twoich potrzeb. Serdecznie zapraszamy do kontaktu oraz współpracy.