Novelty !!!
New fiber-optic cables manufactured by Technokabel S.A. for fire protection systems FOC-2-SLT-HFFR PH120/E30-E60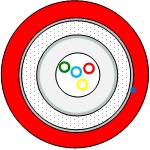 With pleasure we are announcing that Technokabel S.A. is the first company in Poland to design and, after obtaining the necessary certifications and approvals, implemented into production a new, fire resistant, fully dielectric fibre optic cable TECHNOFLAME FOC-2-SLT-HFFR PH120/E30-E60  dedicated to fire protection installations.
TECHNOFLAME FOC-2-SLT-HFFR PH120/E30-E60 is a fire resistant and waterproof fiber-optic cable with one central loose tube (up to 6 fibers per tube), designed for use as part of the following installations:
a) fire alarm systems,
b) smoke and fire control systems,
c) fixed fire-fighting equipment,
d) audible warning systems,
e) monitoring, cooperation and integration of fire protection systems.
The cable can be used in rooms protected by fixed water extinguishing devices (sprinklers).
The cable can be laid with low-current and telecommunication cables.
The cable is made of completely halogen-free materials, which means that it is suitable for use where high fire safety is required.


Article for download: